I hope you all had a wonderful start to the new decade, 2020. With so many events both good and bad happening around the globe, I wanted to begin our Newsletter year with happy testaments and reviews, as sharing your stories is both a privilege & honour,  especially since these are personal struggles, frustrations and persistence to reach your goals.  If there's one thing I can encourage you through this Blog is to Never Give Up.
I'd like to share some new Testimonials that have been sent to me over the past year, when I wrote the last Testimonial Blog.Starting with the Nourishing Face Balm and Frankincense Face Serum , this dynamic duo are so wonderfully soft and hydrating, that seriously one or two drops is sufficient for your whole face to feel uplifted.
Snippets of glee commenced coming in from various locations in Switzerland, starting with this:
'My pots of pure goodness have arrived. #natural #handmadecosmetics #youngandbeautiful. I have Nourishing Face Balm and samples of products I haven't tried before.'
For the Frankincense Face Serum a lovely lady shared this:
'I never believed anything external applied on the skin could work. But Essentially Lili has changed my belief.I have been using Frankincense Face Serum and it has worked wonders for me. My skin has a glow and looks healthy and nourished now. Thank you, Lili for such wonderful products.'
I Love this Testament regarding Cool Eyes :
'I am a working mom of 2 young children with lots of stress and not enough sleep.That makes my eyes look tired all the time. I was desperately looking for products to help my eyes and feel fresher.And then I was finally advised to try this product. The Cool Eyes was Love at first smell! When I applied it, I immediately knew this was the beginning of a beautiful friendship. Since I started using Cool Eyes I feel so much better during the day.If my morning gets too stressful and I forget to use it, I don't feel as well in my body. I am addicted.I feel like it's a product originally invented for Aphrodite And what I also love about it is that I know that it does not cause any harm to my skin.I do not need to worry about the ingredients because it's all from Mother Nature.' What a gorgeous post, definitely made me feel very happy for my customer.
For the Over 50's classy modern woman, I created Diamond Era Balm with the Diamond Era Serum.
The ingredients chosen not only hydrate the skin, but give it an additional boost, especially if you've spent many hours out and under the harsher conditions of the sun. A customer writes:
'I am really amazed by your balms, in particular the Diamond Era Balm.Honestly, I love cosmetics and like to think that I am pretty knowledgeable in that area. But your products are simply amazing.'
Images: Nourishing Face Balm.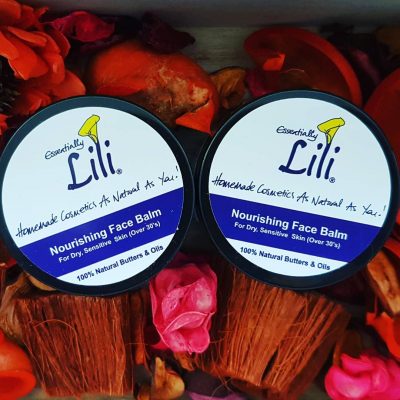 My friend from the U.K took a chance with the Mens Aftershave Care bundle. He shared this:
'The Hydrating Face Balm and Aftershave Serum are lovely. After a shave, I apply both and it's nice and leaves the skin full of moisture all day.'
What about for our youngsters, who are going through their hormonal changes, feeling a little anxious about how their skin is behaving and appearing?The products I suggest for this age group is the Youth Face Balm, Sunflower Cleanser and the Magic Serum as this combination not only cleanses the skin which is usually clogged, but helps re-balance and hydrated it too.I love when parents take a chance, based on the comments and feedback of others, or simply from the Testimonials given by you. It didn't take long to receive these wonderful reviews, from other parts of Switzerland.
'My gorgeous son was so embarrassed about the slight imperfections on his forehead. Lili has come to our rescue.Using Essentially Lili products daily for 3 weeks, my 13 year old son is so excited to wake up every morning for a view and review! He's been using the Youth Face Balm, Sunflower Cleanser and the Magic Serum. His 12 year old sister is now sneaking in on the act! Thank YOU for proving products that are natural and are so easy to use. Do yourself a favour – buy / support local products that bring sunshine and health.' The Aussie in Switzerland!'
Another well-known Global Photographer based in Switzerland shares:
'I wanted to wait a few weeks or so before submitting my review, but the results were so fast that I felt compelled to write this review as soon as. We've bought some of Lili's Essentially Lili's products – the Youth Face Balm and Magic Serum Not only did Lili provide us with the instructions on best use but also how the product itself will work. In no time at all we noticed a clear difference. For what it does for the skin and psychologically for young impressionable minds, it is certainly value for money and we cannot thank Lili enough. I would highly recommend looking through her product range and seeing what will meet your needs or just give her a call. Not only does she deliver good products her service and personality matches. Such a great combination and I will continue to buy her products and enjoy her services. Thanks Lili.'
The other products used for Acne, or Acne/Rosacea are the Evanesce Balm , Vitamin Rich Womens Face Balm, Vitamin Rich Mens Face Balm, together with the Magic Serum and either of the Cleansers.
One of my first customers shares:
'I've been using Lili's products for almost two years now.I've seen a huge change in my skin, the first products which have helped my skin long-term. My husband is now using the Vitamin Rich Mens Face Balm too. He's a runner and this cold weather is harsh on his skin, combined with a busy job, his skin wasn't great, though he's seen a huge improvement! Effects were noticeable after a few weeks and continues. Keep up the good work.'
I was so glad a Blogger shared her testimonial, writing:
' I love these products. The Vitamin Rich Womens Face Balm is one of my favourite products to use.I have been using this for about two years now. It keeps my skin nourished and feeling fresh all year long, but it feels especially nourishing during the cold winter months. On top of it, being all natural and amazing for your skin, it is great value for money. One container lasts so long!!'
Images: Evanesce, Magic Serum & Youth Face Balm, Vitamin Rich Range for Acne/Rosacea.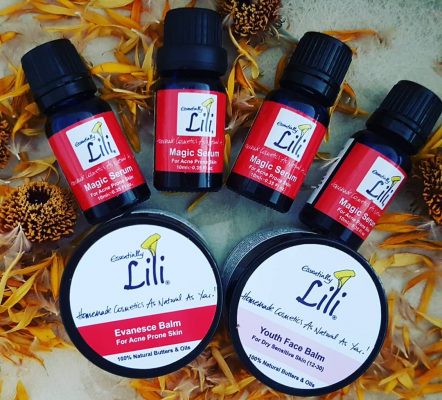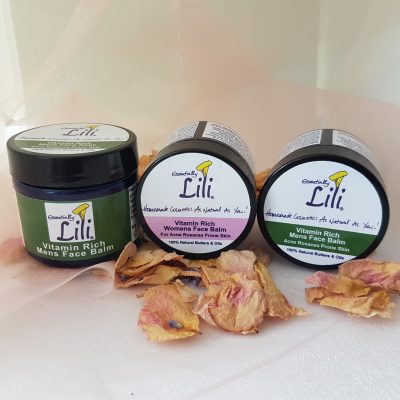 "A Satisfied Customer is the Best Source of Advertisement."
Another product is the Sun Kissed Balm which was created for Sunspots and discolouration, but not freckles. A customer shares:
'I recently bought the Cypress Cleansing Balm and Sun Kissed Balm. Oh Wow, so good. My skin really loves them.I still suffer a break out in spots when my cycle comes around, but your potions really help to calm it all down.So thank you!'
Another fantastic message from a woman using the Sun Kissed Balm:
'Lili, I kept meaning to message.I love the Sun Kissed Balm , and think it is improving my sun damage slowly. It also seems to be somehow drying up oily spots which I have had on my temples since Spring.I love the smell and feel of the balm.
A few months later, she wrote again, and this was definitely worth the wait:
'On the first application I noticed how nice the product felt on my skin and smelt lovely.There was an improvement in the appearance of the sun-damage after a short time.I also noticed that the spots I had had all summer on my temples and hairline disappeared overnight. I thought might be coincidence from not using sun-cream any longer in the cooler weather. This week I noticed the spots had reappeared after using sun cream again. Applied the Sun Kissed Balm and they disappeared overnight! No idea which ingredients in the balm are responsible for this but know this will be my go-to product this summer!! Thanks Lili and sorry I did not spread the word sooner!!'
The Coloured Clays work well as a weekly pampering session for your skin.Choosing between the Red for Sensitive, Green for Problem or Oily, and White for Sensitive skin, this easy to mix and apply treat helps deep cleanse your skin. This definitely beats spending a fortune on methods that can actually cause further damage to your skin. A happy customer not only uses her products with her teens, she wrote after using the Red Clay:
'My skin felt so amazing all day long. It was such a treat using the Red Clay and love that it's so easy to have pampered myself at home knowing it's so good and natural for my skin.'
Images: Sun Kissed Balm & Coloured Clays.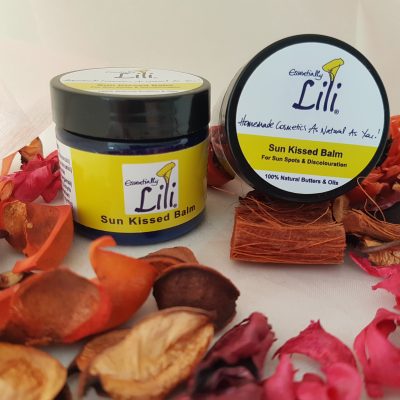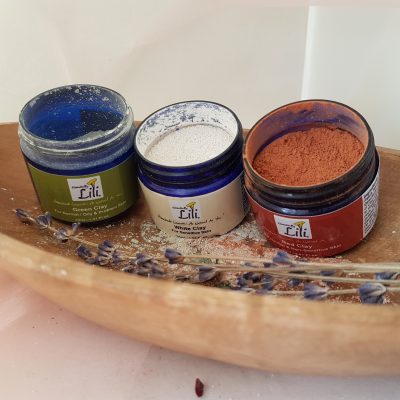 Babies are our pride and joy, and nothing breaks our hearts more than when our little ones are suffering with their skin. With this is mind, I wanted to make skincare for kids that was not only gentle but effective for keeping it hydrated and soft all year round.Recently, my customer wrote to me about her baby girl:
'I really love the products I have seen so far from you. The real only concern I have, what IF you move away some day, or for who know what reason, you stop producing?What will one do then? Returning to what we used before?Oh my god, my little 2.5 year old is already in love with the Natural Baby Moisturising Oil. Every time when I try to give her another crème, just to finish off the bottle rather than trashing it, she says, 'Mama, No, this is not nice. I want the blue bottle body lotion.'
Don't you just love it when kids tell you their truth?Thanks so much sweetie, I'm really pleased you're happy!
Other Products in the Kids Range include for specific conditions like Chicken Pox, Molloscum Flying Warts and Bug bites / stings. A few different mums wrote about their experiences:
'We used the Pox Potion , Amazing stuff!'
'After dealing with these troublemakers, flying warts, I got hold of this amazing product, Go Molly . We were applying it regularly for a couple of weeks and they were going away.It was a big battle but we won.My girl suffers from low immunity and unfortunately now and then, there is a new one popping up.
I keep the product on hand and when you catch it at the beginning, they disappear within a few days. It's Magic!'
'I love the Mozz Off , spray as it feels so much nicer on my skin than the chemical versions you can buy.I have a young daughter and I can put it on confidently knowing it is good for her skin.Also it works!!No bites since I have been applying it.Thank you Lili! '
For Concentrates and Inhalers , I received a few messages from happy customers:
'The Anxiety Inhalers are great.My youngest loves the Kid's one, using it when he feels stressed, and me too, actually, I love the Adults one!'
Whilst another Mum wrote:
'Hi Lili, he is doing amazingly well.No more Eczema with the Renew Balm and has no more congestion, thanks to the Kids Breathe Easy Concentrate!'
For me, no matter how old the person I'm helping is, getting the result is the ultimate goal. And these messages always make me the happiest.
What about that irritating skin condition, Eczema.I absolutely detest it, how it makes your skin feel, irritated, dried out, swollen, cracked, bleeding, itching and so utterly annoying.The other condition similar to this is Psoriasis which can have flare ups just as bad on the skin. These both should be resolved at source, finding out why the condition occurs in the first place. Don't ever hesitate to book the Consultation session to fast track your steps to wellness.
Testimonials for Eczema & Psoriasis:
'I often get heat rashes on my face and upper chest area. I asked Lili if she had something I could apply on it. Lili asked me if I had already moisturised after my shower and when I told her I applied Nivea, she asked me to wash it off first. Then she applied a tiny amount of Renew Balm to the areas covered in redness. A few minutes later, the rashes in the various places had all gone. I had to get myself a pot of this magic before leaving for London! Thanks so much, Lili.
'I've had psoriasis on my scalp since I was 14, but my elbows and knees got really bad after having my first son. So for 9 years I've been trying all the lotions and potions from the doctors/internet/amazon etc and nothing had ever really worked. However within a couple of days using Lili's Oasis Balm for Psoriasis. I noticed a huge improvement with less itching and then over the weeks a massive improvement in the appearance of the plaques. You only need a tiny bit of balm each time, a little goes a long way. I've just ordered some more!'
'We started using Oasis Serum for Psoriasis on my mum's head and she feels less itchy already. Fingers crossed that it works for her, where other medication hasn't been able to get rid of the irritation.'
You have to love reading news like this, as you know that the Magic solution has brought relief to an otherwise ongoing problem.
There are just so many wonderful stories to choose from. Thank YOU everyone, who has written and shared your comments and testimonials on the Facebook Pages, Instagram and on the Webpage.I hope you have enjoyed the free gifts, coupons/vouchers I have given to show my appreciation not only for this, but for your loyal custom.Your stories and reviews have inspired others to want the same success for themselves.
If you need help, please don't hesitate to book the Consultation session online.I hope you enjoyed reading the snippets of positive outcomes, and look forward to helping out in 2020.
Images: Sun Kissed Balm & Coloured Clays.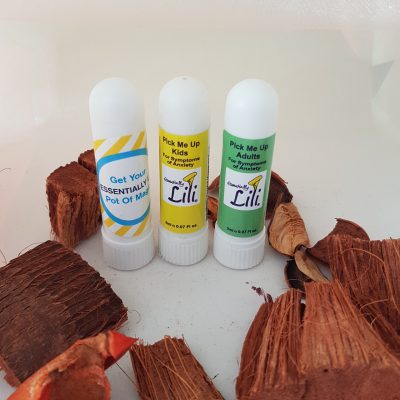 BLOG PARTICIPATION:
Which is your favourite Testimonial and why?

Have the stories shared inspired you to try again for your own skin?

Don't be afraid to ask for help, regarding your product selection or consultation for wellness.

"Why I make Essentially Lili all-natural Skincare & Wellness Products".
About Lili & Essentially Lili

My Health Studies include from 2016-2019 Diplomas in Aromatherapy, Holistic Skincare Products, Clinical Nutrition, Stress Management, Reflexology, Holistic Pain Management. I'm a Member of International College of Holistic Medicine.I'm currently studying Clinical Nutrition for Over 50s.
My aim is to help you get the results you want as I have already been on that hard journey to overcome the autoimmune disorder. If you wish to know more about Clinical Nutrition and how to kick start your health, book a private Consultation. Please send an email to info@essentiallylili.com should you need further assistance.  At Essentially Lili, the products made are all using 100% Natural Ingredients.  See the wide variety of Products available on the webpage.
Should you need help in deciding, start by reading the Reviews & Testimonials about other Customers who have enjoyed using the products.We have had some amazing Before & After results from Clients using the All-Natural Skincare products.  Please don't forget to write your comments and reviews on our pages to share the love with others.
See the Blog Library for previous writings about Alopecia Areata, Face Mapping, Dry Skin in Winter, Raiding Your Fridge, Keratosis Pilaris Tips, Anguish of Acne/Rosacea, How to deal with Cystic Acne & Understanding Your Body. Your feedback allows us to improve the content and information provided and products made.
We look forward to hearing from you, With Love Essentially Lili x