Don't you just love a spoonful or a dollop of honey?
Historically, honey was used by the ancient Egyptians as a sacrifice to their gods/deities.It was also added as a sweetener and in making honey cakes, which were then offered to the gods.Honey was also used to embalm their dead. The ancient Egyptians included honey as a topic ointment as its antibacterial properties helped treat infected wounds.They were aware of the secrets contained in a dollop of golden goodness, way back then!
Did you know that Honey contains amazing attributes for our health?Let me share some of them:
• Provides a natural source of Energy – Honey contains around 80% natural sugars, 18% water with 2 % consists of minerals vitamins, protein and pollen.It obtained the nickname as 'a perfect running fuel', forming liver glycogen, which can be easily absorbed to boost the start of your day.It's one of the best carbohydrates to consume before exercising, and often found in health bars used by sports-people.Taking a spoonful of Honey first thing in the morning on an empty stomach can give you an immediate kick start to boost your energy levels for the whole day.
• Aids with Sleep – Having a spoonful of honey at night time can aid digestion, relax the mind and body as well as assist with obtaining a great night's sleep. This is because the liver's glycogen supplies are restocked, preventing the brain from triggering a panicking search for fuel when you wake up.Also, eating raw honey allows the brain to release melatonin, creating small spikes of insulin levels. This stimulates tryptophan in the brain, which converts to serotonin, that converts to melatonin, boosting immunity, rebuilding tissues and cells whilst resting and sleep.Being a natural aid for sleep, honey lowers the risk of other more serious health problems, including hypertension, which can arise from poor sleep.
• Powerhouse of Antioxidants – Raw honey taken on a daily basis can promote the levels of antioxidants in your body, which help block free radicals that can create havoc or illness in our system.These powerful antioxidants found in honey contain polyphenols which can reduce the risk of heart disease, whilst boosting the immune system.
• Assisting with Weight Management – Replacing sugar with honey can not only lower blood sugar levels, but can also prevent piling on extra kilos.This is due to raw honey activating the hormones to suppress the appetite.However, this does not suggest or recommend the over-consumption of honey as the substitute.To assist with losing weight:Start your day with a high protein breakfast, reduce the refined carbohydrates, add fatty fish to your diet, drink plenty of water, reduce your salt intake and include soluble fibre as well as some exercise to your daily routine.
• Aids Allergies to Pollen – Working as a natural relief for allergies due to the bee pollen contained in raw natural honey.It helps boost immunity, as the pollen collected from various flowers in the gardens forms the honey's genetic make-up. By consuming raw honey like an allergy shot that contains pollen, many sufferers become desensitized to these flowers which would otherwise cause them to have an allergic reaction.
• Assists healing wounds – Bandages that have been infused with honey are known to provide healing effect.This is because honey has natural antibacterial properties, making hydrogen peroxide when it reacts with the body's fluids, which creates an unwelcome environment for bacteria.Honey has also been used in some parts of the world to dress wounds, as well as treating various kinds of ulcers.
Images: Unsplash flowers & bees by Michael Held & Anthony Lee.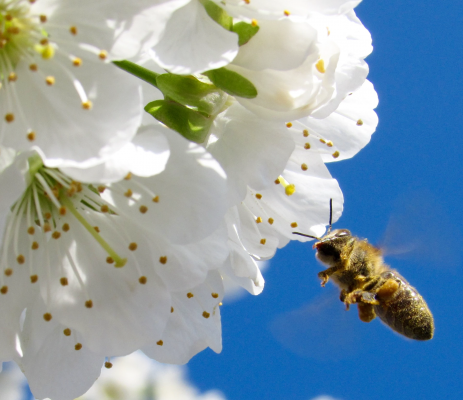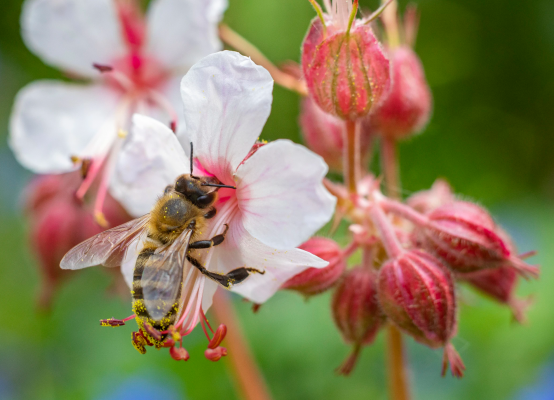 On our many travel journeys, we have seen numerous beehives along rugged coastal terrain, with a wonderful selection of plants for the bees to collect.The taste of this raw, organic honey is unlike anything else; it's like being amongst the flowers that the bees have had the pleasure of pollenating.
What's the differences between Raw Honey and commercially produced honey?
• Raw honey is the purest form when its crude form is taken immediately from the cells of the honey comb within the bee hive.It will contain bee pollen and propolis two very healthy additions.It may also contain beeswax, together with impurities and dead bees. However, these bits are normally strained out before the raw honey is bottled.
• Raw honey should not be heated above 35 degrees Celsius (95 degrees Fahrenheit) as it's the temperature of a bee hive.Raw honey can be strained, but it's never filtered or pasteurised, nor will it contain other additives.
The colour of raw honey should be opaque, not clear or golden or syrup-like.
• Organic honey will have passed the country's set of standards and conditions to have the title 'Organic' granted.
It is otherwise raw organic honey, not heated above 35 degrees Celsius (95 degrees Fahrenheit). It would have been processed similarly through the straining process.
• Commercially generated honey requires excessive heat, is chemically refined and processed heavily to obtain the clear, sparkly colour.
This process can destroy and remove the phytonutrients like pollen, vitamins and minerals and enzyme-rich propolis which are beneficial for our health.
• Other non-raw honey or commercially produced jars can be sourced from bees that are treated with antibiotics.The bees may have been given other 'nourishment' ingredients including forms of sugar, low-cost syrup, or high fructose corn syrup.Some of these commercial hives may have non-organic materials and additives, and will not have bee pollen in them.
Manuka honey is produced in New Zealand from the 1830s, when bees were brought from England to pollinate the Manuka bush.
Manuka is naturally sweet, has a rich but earthy flavour, containing many beneficial compounds with antibacterial properties. It can be found in its pure form, or added to herbal creams and antibiotics, masks and skincare products.It contains:
•Carbohydrates/sugar,
• Methylglyoxal (MG) and hydrogen peroxide,
• Enzymes such as diastase and glucose oxidase,
• Amino acid proteins which are the building blocks,
• B Vitamins (including B6, thiamine, niacin, riboflavin, pantothenic acid)
• Organic acids
• Trace minerals such as calcium, folate, phosphorus, potassium
• Flavonoids, polyphenols, alkaloids and volatile compounds.
If you haven't already tried this honey, see if you can get your hands on it!
Making your own sugar scrub for weekly pampering:
You'll need 1 teaspoon of raw honey, 4 tablespoons of brown sugar, 2 tablespoons of Olive oil and around 6 drops of essential oil. Choose from Lavender, Tea Tree or Mandarin.
Add the oil and honey, add the sugar and blend well before adding the essential oils. Store in a tight jar and keep in a cool dark place. Use when needed!
Image Bee Hive Wolfgang Hasselmann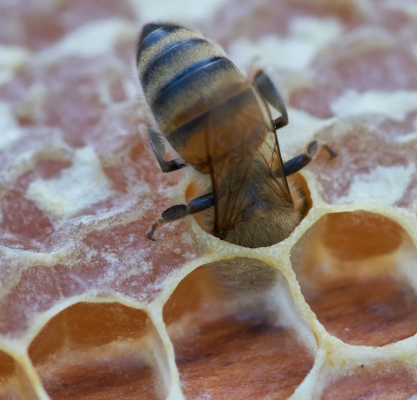 BLOG PARTICIPATION:
Have you always included Honey in treating coughs and colds?
Have you tried using honey in your pampering sessions?
Do you use Honey as an alternative to sugar & cooking?
"About Lili & Why I make Essentially Lili Products."
About Lili & Essentially Lili – My Health Studies include from 2016-2019 Diplomas in Aromatherapy, Holistic Skincare Products, Clinical Nutrition, Stress Management, Reflexology, Holistic Pain Management.I'm aMember of International College of Holistic Medicine.I'm currently studying Clinical Nutrition for Over 50s.
My aim is to help you get the results you want as I have already been on that hard journey to overcome the autoimmune disorder. If you wish to know more about Clinical Nutrition and how to kick start your health, book a private Consultation. Please send an email to info@essentiallylili.com should you need further assistance.  At Essentially Lili, the products made are all using 100% Natural Ingredients.  See the wide variety of Products available on the webpage.
Should you need help in deciding, start by reading the Reviews & Testimonials about other Customers who have enjoyed using the products.We have had some amazing Before & After results from Clients using the All-Natural Skincare products.  Please don't forget to write your comments and reviews on our pages to share the love with others.
See the Blog Library for previous writings about Alopecia Areata, Face Mapping, Dry Skin in Winter, Raiding Your Fridge, Keratosis Pilaris Tips, Anguish of Acne/Rosacea, How to deal with Cystic Acne & Understanding Your Body. Your feedback allows us to improve the content and information provided and products made.
We look forward to hearing from you, With Love Essentially Lili.