I wanted to mark our 6th birthday with a celebration of reviews and testimonials from customers, sharing your results from using the products. It seems like yesterday when I decided to increase the production of my personal favourite batch of Nourishing Face Balm into samples for distribution and trial.I was never really sure what would happen, if there would be a market for all-natural skincare products, or if anyone would like the products I make.
The best feedback so far has been from my client who has been using the Nourishing Face Balm amongst other products. One time, the waiter handed her the Kid's Menu, and another time, the shop assistant asked her for ID when attempting to purchase alcohol!That still makes me giggle every time.Thanks for sharing these amazing comments Jeannine xx.
So this Birthday Celebration Blog is a compilation of Reviews shared on the Essentially Lili Facebook page and webpage, in your words, about your choice of products.Some have been for overcoming Eczema, rashes, dealing with acne prone skin, flying warts, dry feet and maintaining a youthful appearance to your 'middle aged skin'. Hope you love the selection included in this celebration birthday blog.
Let's start with the Essentially Lili Signature Product Nourishing Face Balm :
Magali B. in Switzerland wrote: 'Thank you!!! The Nourishing Face Balm is already making my face look nicer'!!
Kate Kaufmann shared her love for the product: 'The Nourishing Face Balm is absolute bliss for the face.Only a tiny amount is needed, the product feels rich and is easily absorbed.Wonderful!!'
The Love of the tiny jar of Cucumber Oil and Myrrh named Cool Eyes :
Dorothy N in Switzerland wrote: ' I love how Cool Eyes smells so refreshing. It's just the right texture for an under-eye balm.
Erin Robson in Switzerland shared: 'I love how light and smooth Cool Eyes feels on my skin.I feel really good about using it and keeping my skin hydrated.'
The potency of 1-2 drops of the Concentrated Serums can make your skin feel 'Ah-may-zing! Here are some reviews for Frankincense Face Serum and Diamond Era Serum :
Dessi Dimitrova in Switzerland wrote: 'I've been using both the Frankincense Serum & Diamond Era Serums for 8 months and I love them a lot. The Frankincense Face Serum is amazing, as it makes my skin feel very smooth and velvety. I use it mainly in the mornings. The Diamond Era Serum I use mostly at night time, and it makes my skin feel softer and plumped-up.Thanks a lot!'.
Gallery Selection of Testimonials from Essentially Lili Facebook Page:Jeannine, Claudene & Ann.
"Bespoke Service for those allergic to specific natural ingredients."
Making Bespoke Products for your specific needs:
Monika Maier in Switzerland approached me whilst suffering with irritated skin on her face. Her story:'I have severe dermatitis perioralis and thankfully, I found Lili.She made customized products after analysing my skin problems, which makes wonders.My outbreaks are under control now, and easily go away with her products.I absolutely love my Bespoke Nourishing Face Balm and Cypress Cleansing Balm. Thank you Lili, you saved me!Have a look on the before and after photos of the severe breakout.'
Before & After Photos – Monika & Ana.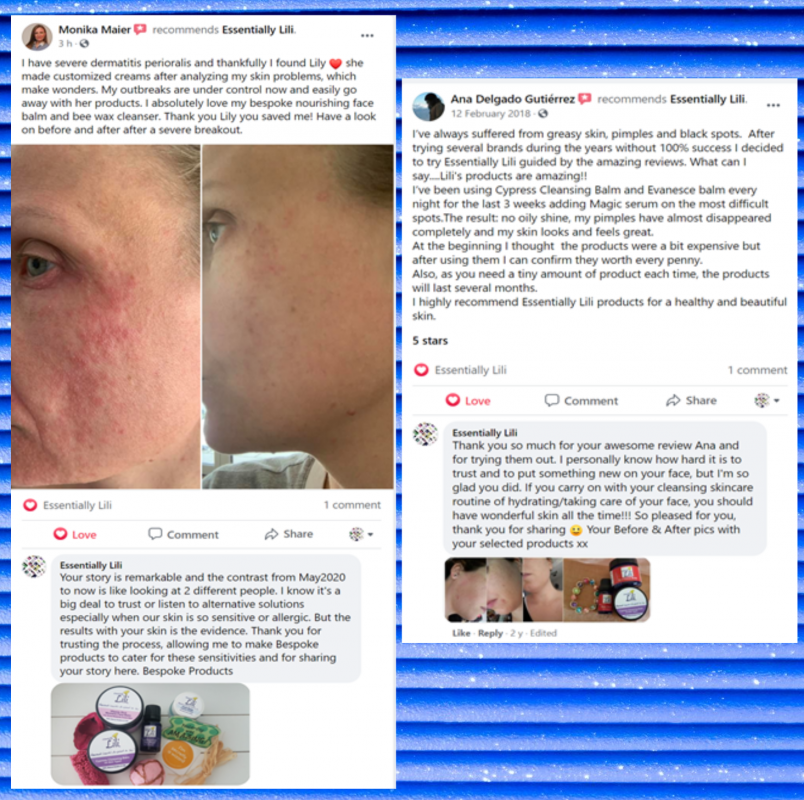 The Miracle of Renew Balm:
Deborah B in Switzerland writes: 'Ohhhhh I have to send you my before and after pictures! And all the reviews I still owe you. The Renew Balm saved my hands!!! I ordered the balm long time ago for some other reason. I think it was for my daughter? Look, I don't even remember, that short time we only had to use the balm. My hand were a total mess;I had to urgently go to the doctor for an appointment and then I saw the Renew Balm in the middle of my cremes. I thought I'll give it a try before going to the doctor.Just with one application, I noticed a huge improvement.I'm not joking. 2 more applications and the problem was gone. And my hands looked similar to these hands of your clients. The Renew Balm is really a miracle!Love it!I will soon send you a bunch of before and after pics and reviews.'
Katherine Hege in Switzerland shared:' Renew Balm is super nourishing and my daughter's Eczema is disappearing fast!She loves the cool feeling of the balm when I put it on her skin, which is really soft.And yet again, Lili's products have come to the rescue!!The Natural Baby Moisturising Oil is so soothing on dry skin.It has worked wonders on my 11-year-old daughter's Eczema, especially in conjunction with the Renew Balm.'
Montse Merino in Switzerland wrote about her experience: 'I suffered one year with terrible Eczema on both hands.After 3 months of using the Renew Balm , the Eczema was gone.My hands are completely healed, and this was 3 years ago.'
Testimonials – Christophe & Mags.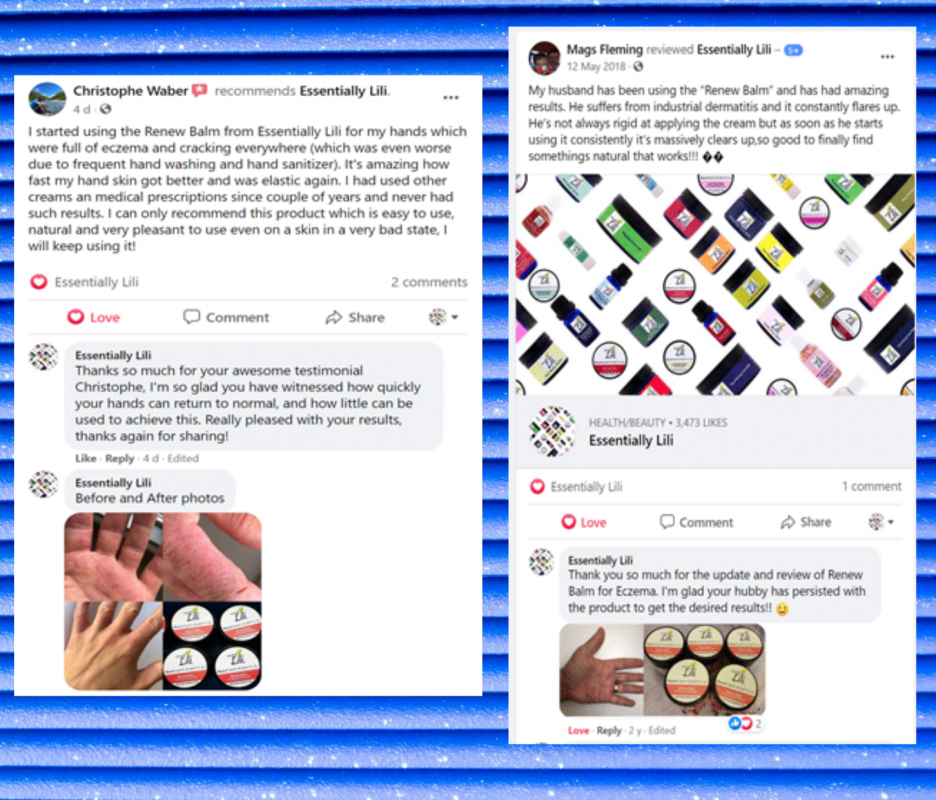 For those dealing with Acne prone skin using a combination of these products:
From Evanesce Balm with Magic Serum, Youth Face Balm and Sunflower Cleanser:
Renowned and Award-winning photographer, Elaine Pringle shared this wonderful post: 'I HAVE to share this amazing product and business of my friend Lili. I was NOT asked to do this or prompted in any way. She is the founder of Essentially Lili and her products are truly magical. My teen had developed some spots and Lili's products Evanesce Balm with Magic Serum are working miracles. They spots are mostly gone. Thank you so much, especially from my daughter.'
To her friends, she continued to share: Check out her range for all types of skin conditions including dry cracked heels, anti-wrinkles, stretch marks, sunburn, age spots.It really is the best kept secret.My husband calls her 'The Engineer', which is a compliment by the way!!All her ingredients are natural and she makes them herself.Check out her website. You will not regret it.'
Maria Natalia Gantenbein in Switzerland writes: 'My kids are doing good with the 3 products they're using – Youth Face Balm, Magic Serum and Sunflower Cleanser. It makes their skin really nice and soft.'
Christine Small in Switzerland shares, 'The kids love their products, Youth Face Balm and Sunflower Cleanser. My daughter commented on how soft her face was this morning, and my son loves the smell of the cleanser. Many thanks!'
Ioana Marin in Switzerland wrote: 'The Sunflower Cleanser is a very nice, nourishing cleansing option.It leaves the skin clean with just very little quantity.I think this is a thing I still have to get used to, as it's so different from mainstream cleansers.As well as with not having to use a toner afterwards.I am happy to have discovered it as I was not really comfortable with the latter ones.'
For Young Babies & Older Kids, our Natural Baby Moisturising Oil has been really popular:
Irina in Switzerland shared, 'My 4.5-year-old loves the Natural Baby Moisturising Oil!! She wants to have it every evening before bed on her dry hands (especially now after frequent washing and sanitizers), and says it smells like chocolate. Some nights when we forget to put it on, she would literally jump out of bed saying, 'Oh no, we forgot the cream from Zia Lili!'I can highly recommend this very natural product that makes both kids AND parents happy!'
Mae G. in Switzerland wrote: 'Lili, I must say thank you very much for the amazing Natural Baby Moisturising Oil for my kids!Their skin is very smooth now and they love it very much!!'
Anete Berzina-Rodrigo in Switzerland is another fan of this product.She wrote 'I will need 2 x Natural Baby Moisturising Oil as I also use it for my always dry hands in winter.Love Love Love Forever!!'
Reesha Lewandowska in Switzerland recently shared her experience using this for her child. 'My daughter, (now 21 months old) suffered from Eczema and we were prescribed by our pediatrician a cortisone-based creams and Dexeryl lotion to be applied after bathing.But what really worked wonders for curing my daughter's Eczema was Lili's Natural Baby Moisturising Oil made especially for toddlers who suffer from Eczema.It worked wonders for my daughter.I highly recommend Essentially Lili's products for treating Eczema. It's 100% natural.'
Testimonials – Maria Natalia, Saakshi & Reesha.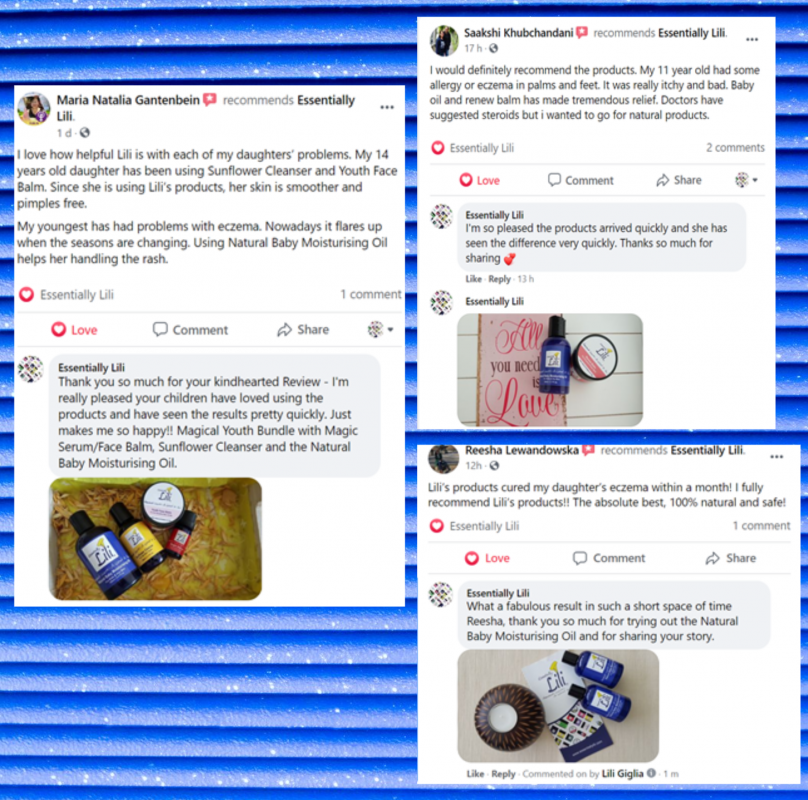 Consult Therapist Helps Fast Track what you need for long-term Health & Well-Being:
Tessa James in Switzerland shared: 'Lili has amazing products, is always ready to advice, offering Consultation and is super responsive.We have tried a few products with the family, from Natural Baby Moisturising Oil, the hydrating Rosey Hemp Hands and even gifted the Renew Balm to treat my sister's Eczema.The products have all been great.Highly recommend.'
Mirriam Tyebally-Fang in Switzerland wrote: 'Lili's products are the best I've ever tried – it feels so natural and nourishing, and the ones I've used have such a calming scent.Although, I can highly recommend her products, the thing about Essentially Lili has to be how personable Lili is with her Consultation and attention. She has followed up with every order I have made, and has checked on me and my skin periodically to see if we are moving in the right direction.'
Those contagious and annoying Warts disappear with Go Molly:
Jane Pfister in Switzerland has been a huge fan of the Essentially Lili range of products for years.Regarding this product, she wrote 'I used Go Molly too and it helped.I just dabbed with a cotton pad.My daughter had warts for about 6 months.'
Sandra Reido in Switzerland shared, 'Another vote for Go Molly!!Purchased it a while ago and, as the name indicates, gone were the 'Mollys' (as we now call them) within a short period of time.Highly recommend this product!'
Katherine Hege from Australia living in Switzerland wrote, Go Molly is Magic!! Got rid of ALL my daughter's spots and NONE have returned. Thank you again Lili!'
Unisex Products that keep your heels feeling fabulous with Lime Foot Repair :
Dorothy N also wrote about her Feet products:' Lime Foot Repair is wonderful stuff and smells great too!My dry and cracked heels are feeling so much smoother.Definitely part of my bedtime routine to slather some on.'
Jo Brady in Switzerland shared her love too: 'I love the Lime Foot Repair. It has made such a difference to my feet.And it smells sooooooo good!!'
Discolouration & Sunspots change with Sun Kissed Balm:
Daksha Desai in the United Kingdom shared her experience using this product:'I ordered and used Essentially Lili's Sun Kissed Balm for age spots/sun kissed marks on my face.I have been using it for the last 7 months and find it absolutely marvelous.The marks on both cheeks have lightened considerably.Initially gave me inflamed spots on the area which in time got resolved.I'm very happy with the result. Thank you!'
Using Geranium Hands & Body Butter For dry hands:
Monika Maier wrote: 'Lili, I find your products amazing!I recently had a weird rash on my hand, which I self-diagnosed as contact dermatitis.I put Geranium Hands & Body Butter and it worked wonders, the rash disappeared in a couple of days.'
Testimonials – Daksha (UK), Katherine, Anna.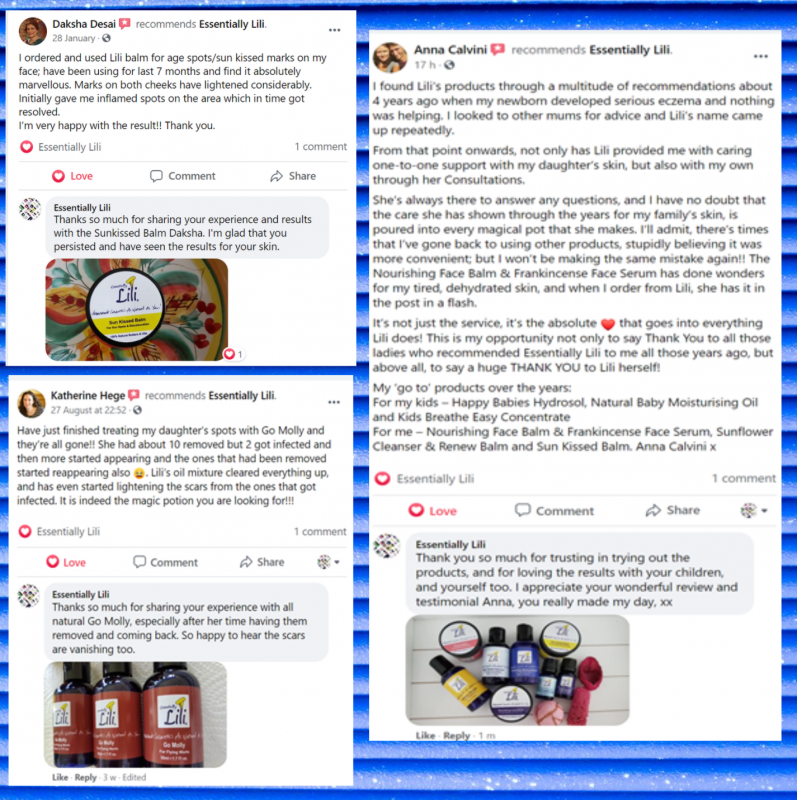 'Word of Mouth Advertising is the best way of promoting your favourite brand!'
There are just so many wonderful stories that I was unable to add to this Celebration Blog.However, you can check them out on the webpage and Essentially Lili Facebook pages too.
Thank YOU so much for sharing your stories and pictures too.I hope you have enjoyed the free gifts, coupons/vouchers I have given to show my appreciation not only for this, but for your loyal custom.Your stories and reviews have inspired others to want the same success for themselves.
If you need help, please don't hesitate to book your own session: Consult Therapist.
Testimonials -Danna, Denise, Ivana, Laura & Olga.
BLOG PARTICIPATION:
How have the Essentially Lili Range of products helped you and your family?
What have you found to be the best part about using the products?
Would you like to see other products available in the range? If so, what would you like to try?
About Lili & Essentially Lili – My Health Studies include from 2016-2019 Diplomas in Aromatherapy, Holistic Skincare Products, Clinical Nutrition, Stress Management, Reflexology, Holistic Pain Management.I'm aMember of International College of Holistic Medicine.I'm currently studying Clinical Nutrition for Over 50s.
My aim is to help you get the results you want as I have already been on that hard journey to overcome the autoimmune disorder. If you wish to know more about Clinical Nutrition and how to kick start your health, book a private Consultation. Please send an email to info@essentiallylili.com should you need further assistance.  At Essentially Lili, the products made are all using 100% Natural Ingredients.  See the wide variety of Products available on the webpage.
Should you need help in deciding, start by reading the Reviews & Testimonials about other Customers who have enjoyed using the products.We have had some amazing Before & After results from Clients using the All-Natural Skincare products.  Please don't forget to write your comments and reviews on our pages to share the love with others.
See the Blog Library for previous writings about Alopecia Areata, Face Mapping, Dry Skin in Winter, Raiding Your Fridge, Keratosis Pilaris Tips, Anguish of Acne/Rosacea, How to deal with Cystic Acne & Understanding Your Body. Your feedback allows us to improve the content and information provided and products made.
We look forward to hearing from you, With Love Essentially Lili.