Have you ever seen a clump of your hair falling out, especially whilst in the shower?
There's nothing more distressing, when bunches of your hair is seen clumped at the drain of the shower.Often this happens as part of pregnancy or post delivery and breast feeding.
Women in particular, just have to ride the anguish of hair-loss, combined with waiting for our hormones to rebalance, and the pre-pregnancy normality to return.For men, it can also cause a lot of distress, though shaving the hair off completely can be one way of solving the embarrassment of hair loss.
But what if your hair is not only falling out, but leaving bald patches all over your scalp?This kind of loss in patches is otherwise known as Alopecia Areata. The immune system's white blood cells which usually protect us from free radicals, viruses and bacteria, turns and fights against our healthy hair follicles instead.These become smaller, whilst the production of hair slows down drastically.
It sadly doesn't have a cure, but we usually have to wait patiently for our hair to grow back in its own time. Alopecia Areata can be treated with various kinds of prescribed medications, consisting of Immuno-suppressants, Minoxidil, Corticosteroids, Anthralin or Diphencyprone. However, taking these for longer periods of time can have side effects, consisting of leaving the skin looking lighter in colour or discoloured, causing reactions or irritations, to stomach aches, nausea and tiredness.
Gallery of Images from Unsplash Chrissie Kremer, Ahmed Carter.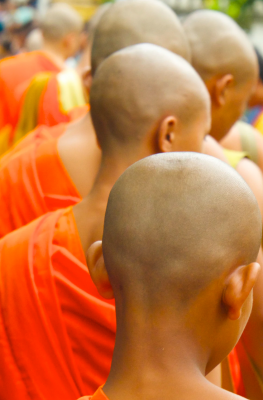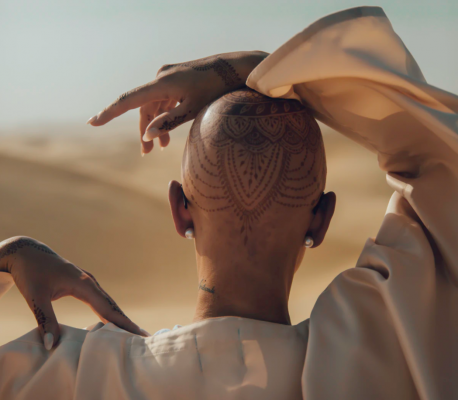 Dealing with hair loss can be extremely stressful, especially if constantly monitoring the patches or how much has fallen.It can make us feel insecure, anxious and irritable.For those that want to try an alternative and more healthy option for boosting hair growth, consider these:
• Probiotic Supplements – Adding these to your diet can assist your digestive system's health, aiding and treating various autoimmune conditions, including alopecia areata. Improving the condition of your immune system prevents your body from reacting to threats which can cause inflammation and reactions.The kinds of foods to eat include cultured vegetables, yoghurt, kefir, kombucha and apple cider vinegar.
• Zinc – Is a vital mineral which supports hair follicles. Taking a supplement can aid boosting your immune system, whilst repairing your gut's health, making it more responsive to the threat of free radicals.Not only will the supplements provide therapeutic benefits, it can work as a natural treatment for alopecia areata.Foods which are high in zinc include pumpkin seeds, grass-fed beef and lamb, spinach, cashews, chickpeas and yoghurt.
• Ginseng – can be taken in either powdered, dried or tablet form. It works by reducing inflammation and boosting our immune functionality and homeostasis: (any self-regulating process by which biological systems tend to maintain stability).Alopecia areata can be treated naturally by including the consumption of red ginseng.
• Consuming Anti-Inflammatory Foods – these will naturally benefit our digestive tract as they provide nutrition as well as a calming effect on our system.Often those suffering from Alopecia Areata are deficient of certain nutrients.Start by avoiding foods which are highly processed and contain loads of sugar.Instead, include foods like beets, broccoli, nuts, seeds, spices like ginger and turmeric, green leafy vegetables, blueberries, coconut oil, bone broth and wild-caught salmon to your list for consumption, which are high in antioxidants, essential fatty acids and necessary minerals. Changing up your diet can aid how you feel as well as restore autoimmune problems shown in our bodies.
• Stress Reduction – can have amazing effects on our body.Often stress can cause all sorts of ailments from skin conditions like Eczema, sleep deprivation, anxiety and hair loss.Participating in activities that encourage blood circulation can assist with relieving stress levels.These include meditation, spending time outdoors, scrapbooking or keeping a journal. You can also join support groups with those dealing with alopecia, as well as surrounding yourself with family and friends who are supportive and encouraging.
• Acupuncture – Can be a natural treatment to consider not only for increasing blood circulation, but for dealing with depression and anxiety.Acupuncture works by stimulating and releasing the flow of energy in the body's pressure points whilst reducing inflammation.It can also assist with minimisingT1 cells that attack hair follicles which cause hair loss, like alopecia areata.
• Quercetin – is a plant pigment (flavonoid) antioxidant which aids in reducing inflammation and fighting damage caused by free radicals.It is often used to treat autoimmune disorders, as it has a strong effect on the bodys' immunity.Quercetin is found in red wine, onions, berries, apples, green tea, buckwheat tea, Ginkgo biloba, St John's wort and American elder.Adding it to your diet can stimulate hair regrowth due to quercetin's anti-inflammatory properties.Supplements and creams can be purchased at your health food stores, but ensure that Quercetin is the main ingredient, or that bromelain, another anti-inflammatory enzyme is included.
• Lavender Essential Oil – An all-round ingredient to keep in one's medicinal cabinet, Lavender finds another place for aiding our health.It is a powerful antioxidant which reduces inflammation, and can assist with the production and thickening of dermal layers, improving the health and depth of hair follicles.
• Rosemary Essential Oil – is used to enhance the growth and thickness of hair, by increasing the metabolism of cells.It can be as effective as the prescribed drug, 'Minoxidil' which is used for treating alopecia areata.Rosemary oil can also be used to treat dry scalp and treat dandruff.
Gallery of Images: Rosemary, Oasis Balm & Serum.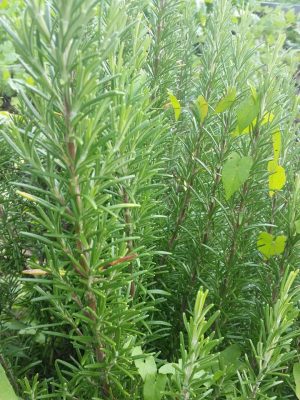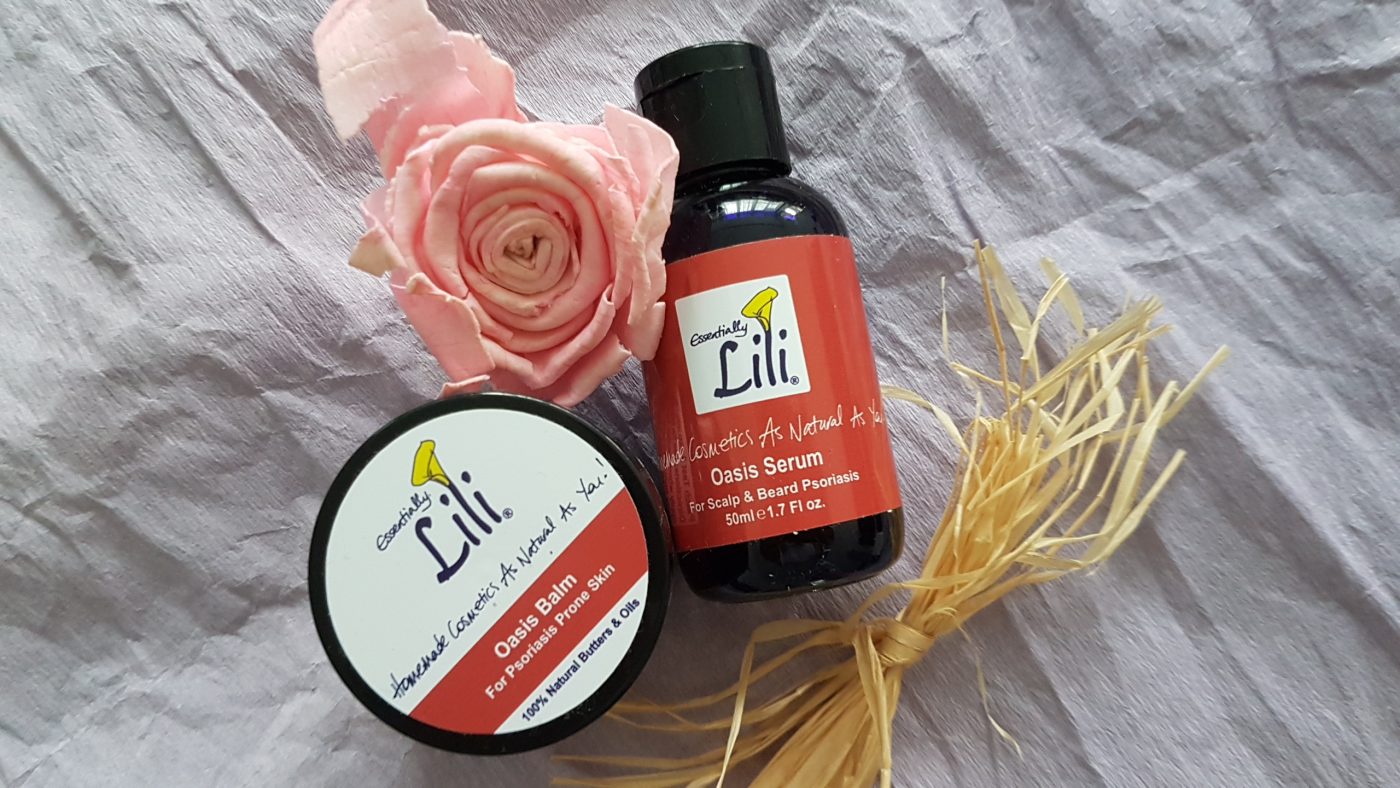 In case you missed the previous blogs and their benefits, here are some oils related to encouraging hair growth:
Products for Hair related concerns from the Essentially Lili Range is Oasis Serum.This all-natural product includes the following healing, soothing, stimulating, antioxidant Ingredients:- Coconut (Cocos nucifera), Wheatgerm (Triticum Vulgare), Black Seed (Nigella sativa), Jojoba (Simmondsia chinensis, Soyabean (Glicine max) Baobab (Adansonia Digitata) & Tamanu (Calophyllum Inophyllum) with Essential Oils: Palmarosa (Cymbopogon martini) Patchouli (Pogostemum Patchouli), Roman Chamomile (Anthemis Nobilis), Rose (Rosa Centifolia), Cedarwood (Juniperus virginiana), Carrot Seed (Daucus carota) & Ylang Ylang (Cananga odorata) & Grapefruit Seed Extract.
Black Seed Oil which soothes an inflamed, flaky, itchy and sensitive scalp.Black Seed Oil can assist with regrowth to thinning out areas on the scalp whilst aiding conditions like Psoriasis. Applying the Oasis Serum blend twice daily can improve the condition of the hair follicles whilst treating the irritated skin condition.
Pumpkin Seeds are extremely rich in zinc, antioxidants, omega-3 & 6 essential fatty acids and Vitamin E.These aid with fighting free radicals, maintaining our youthful appearance, whilst the zinc levels help balance hormone levels, benefiting hair re-growth and reversing loss.
Kiwi Fruit Oil can be used to treat your hair, as it promotes elasticity, bounce and averts the loss of moisture from the scalp.
To read more about the benefits of these other components contained in the Oasis Serum, please check out the Ingredients page. Image: Kiwi Fruit Oil.
BLOG PARTICIPATION:
Have you been suffering for conditions like Alopecia Areata?
If so, how long has it been a concern?
Have you tried using supplements or natural oils to encourage hair regrowth?
Would you consider using the Oasis Serum to aid the condition?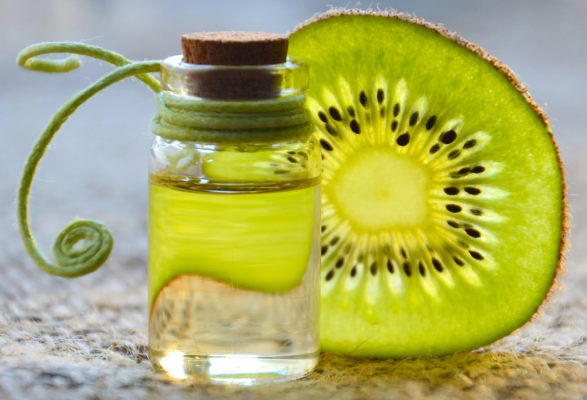 "About Lili & Why I make Essentially Lili Products."
About Lili Essentially Lili  – My Health Studies include from 2016-2019 Diplomas in Aromatherapy, Holistic Skincare Products, Clinical Nutrition, Stress Management, Reflexology, Holistic Pain Management, and a Member of International College of Holistic Medicine.  I'm currently studying Clinical Nutrition for Over 50s.
My aim is to help you get the results you want as I have already been on that hard journey to overcome the autoimmune disorder. If you wish to know more about Clinical Nutrition and how to kick start your health, book a private Consultation. Please send an email  should you need further assistance.
At Essentially Lili, the products made are all using 100% Natural Ingredients. See the wide variety of Products which are available on the webpage.
Should you need help in deciding, start by reading the Reviews & Testimonials about other Customers who have enjoyed using the products.   We have had some amazing Before & After results from Clients using the All-Natural Skincare products. Please don't forget to write your comments and reviews on our pages to share the love with others.
See the Blog Library for previous writings.  These include topics like Face Mapping, Dry Skin in Winter, Anguish of Acne/Rosacea, How to deal with Cystic Acne & Understanding Your Body.  Your feedback allows us to improve the content and information provided and products made.
Always love hearing from you, your feedback and reviews.  With Love Essentially Lili.